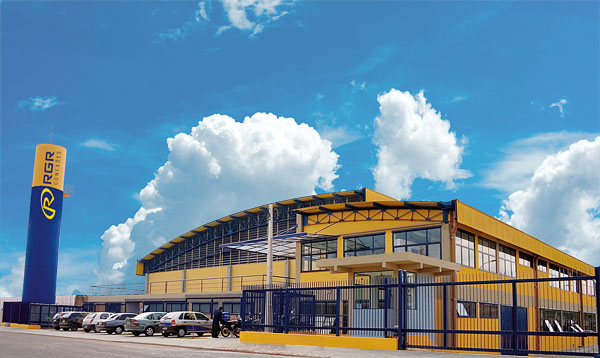 With dedication and continuous researches, RGR Pneumatics keeps seeking for development and process optimization of its products through modern equipment and able technical staff.
The company is committed to supply fittings, tubes, break system, electronic valves and actuator in a way to achieve complete satisfaction from the customer and their demands above the products, therefore, becoming the most well-structured and prepared company of the pneumatic and electro-pneumatic segment in Brazil. All range of product is manufactured accordingly with technical standards as ABNT, SAE and DIN; It is also recommended for use at flow conduction as water, air, grease, oil derived, gas, etc.
The main goal of RGR is to become the leader of the market at its segment buses makers, road and agriculture implements and also industry in general, investing in machine and human resources, and working with excellence in better solutions for its customers.
The parts manufactured in carbon SAE 12L14 steel, gets onto a surface treatment of zinc trivalent with sealing (coat of 12 to 15 µ) SALT SPRAY resistant.
Parts in brass (CLA360/CLA377 league) are manufactured in bars that had passed through a wit quality control, ensuring a high performance at machining process and attending to ROHS 2011/65/EU standard. The dangers substances are restricted, with abilities exports without health and environment harmful.
Parts machined in ZAMAC 5 has been through the process of packing and impregnation increasing the quality of the product.
Nylon tube range are produced from raw material POLIAMID PA11/12, which parameters has been defined by J844-TYPE A and DIN 74324 norms.
Parts in aluminum 2011A – T8 are manufactured in bars through a wit quality control, ensuring high performance at machining process.
Flexible break system are manufactured following the SAE J1402:2017 standard specification.
The fitting sealing process that has o-ring parts (nitric rubber) attends to the standard ASTM D2000 specification.
Special fittings manufactures, accordingly with drawings or samples given by the customers.
A specialized team in technical assistance to guarantee support to customers demands.
RGR PNEUMATICS is established in a plant, with two sheds, that holds the workshop area, labs, training, technical support, always seeking for high quality support through each professionals in charge.
The company also counts on a branch, located on Caxias do Sul city, state of Rio Grande do Sul – Brazil, strategic as a distribution center for the hole state.